Todos temos uma marca que gostamos. A minha, mais óbvia, é a Vans. Adoro andar de Carver com eles, além de agarrarem bem a tábua, têm muita pinta. Depois, sendo uma marca com um posicionamento jovem (eu incluída), sentem a responsabilidade de proteger o meio ambiente. Eu gosto disso e da nova coleção, The Circle Vee.
O compromisso da Vans é simples. Reduzir o impacto que têm no planeta com a eliminação do plástico descartável das suas embalagens, reinventando o ciclo de vida dos seus produtos  e educando a família Vans para se focar numa visão mais sustentável no dia-a-dia.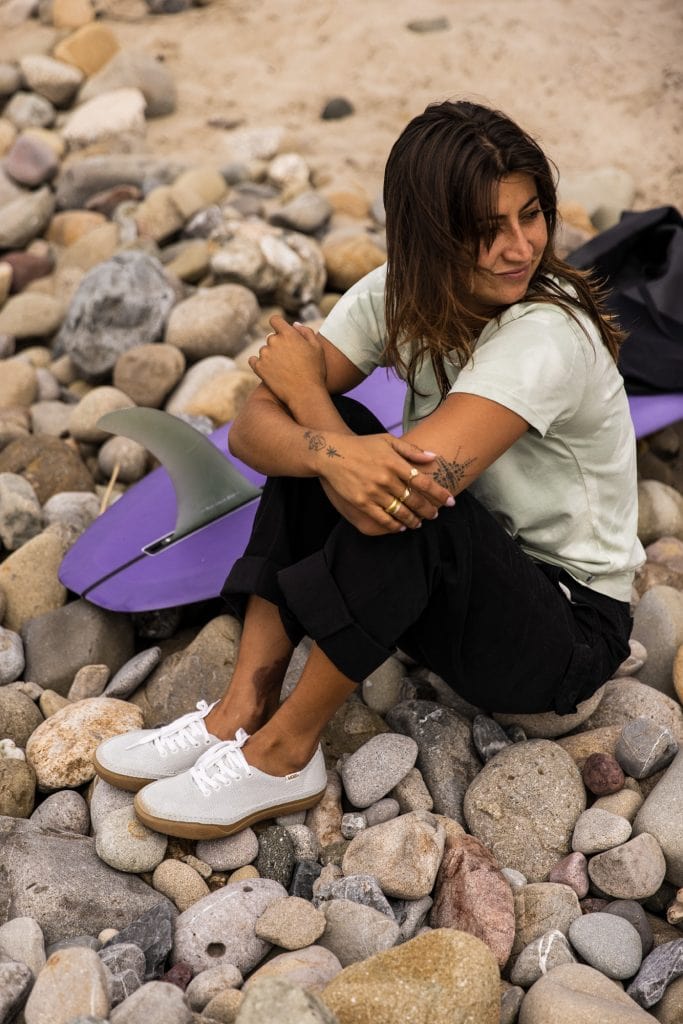 Nesta lógica, todos os passos, ajudam. E assim entram em cena os meus novos favoritos da Vans Surf, os The Circle Vee. Olharam para a forma como produzem ténis e fizeram os seus ajustes, todos eles naturais: 
Palmilha EcoCush: feita com 70% de base biológica, derivada de óleos à base de plantas sem sacrificar o desempenho.
Sola EcoWaffle: novo composto de borracha natural que substitui a borracha sintética derivada do petróleo. Ah, e não compromete a aderência e a durabilidade pela qual a Vans é conhecida desde 1966.
Malha: fabricada com 48% de algodão biológico, 47% de cânhamo e 5% de nylon, dando a estes ténis vanguardistas um visual e toque do ADN clássico e natural da Vans, reduzindo o excesso de desperdício no processo de fabrico do calçado. A parte superior é costurada diretamente na sola para ajudar a reduzir a quantidade de adesivo usado, e todos os forros e atacadores utilizam algodão biológico, cânhamo e fibras naturais de juta.
É um pequeno passo, mas se toda a sua produção começar a incluir estas pequenas vitórias, vamos longe. Como parte da coleção, há ainda a parceria com a Ocean Conservancy, uma organização global focada em proteger os oceanos; e doam 1 dólar por cada produto Circle Vee vendido, com um mínimo de 25 mil dólares doados à Tides Foundation. 
Acho que é óbvio que vou juntar os ténis à minha coleção, só falta decidir a cor: cinza claro, bege ou azul. No ano passado comprei a edição surf Chris Johanson, também parte do projeto de sustentabilidade da Vans. Super fã do conforto e da leveza dos ténis.
Enquanto consumidora, tento cada vez mais comprar de forma sustentável. Apoiar a proteção dos oceanos é o meu compromisso enquanto surfista, apaixonada pelo mar e pelo nosso planeta.